Wooden shelves tree trunk | Bookcase solid wood | Cube shelf wood | Wooden storage shelf 2MX2M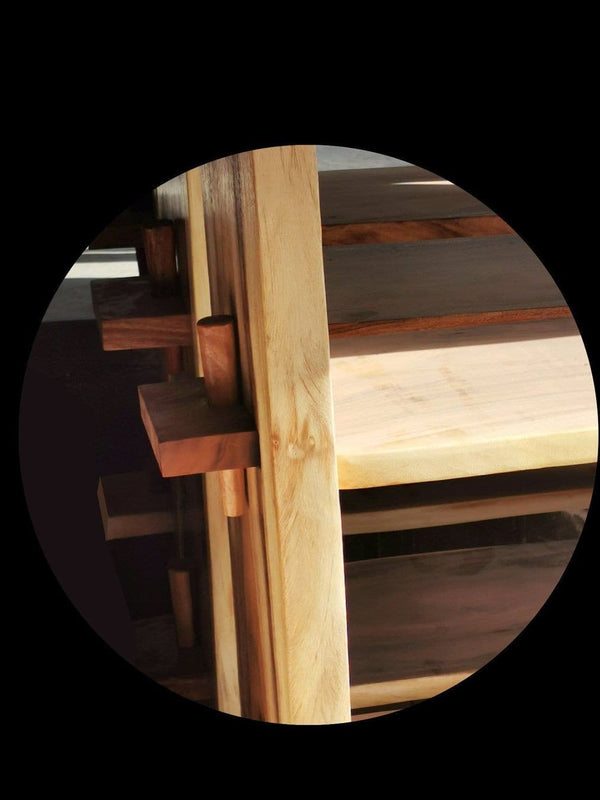 Discover our high-quality, custom-made solid teak wooden shelves. Ideal for restaurant, business and office storage as well as impressive bookshelves for your home. Our sturdy, unglued wood panels are easy to assemble and offer natural beauty and functionality. Order now

XXL shelf made of teak wood 200x200cm
Our shelves are all made from whole teak slices, the boards are not spliced. These 5 cm thick boards must come from the trunk of a teak tree with a minimum diameter of 70 cm and a height of 2.5 m. For 13 shelves, at least 18 teak trees are required that are older than 50 years.This large-format teak board with a thickness of 5 cm is very rare. Almost all teak furniture is only available with spliced ​​panels up to a maximum thickness of 2 cm.

Consisting of 6 boards and 8 wooden wedges. Can be removed and installed at any time. Easy to store and transport.
Stylish shelf made of solid wood
Product Information:
| | |
| --- | --- |
| material: | Solid teak wood, the wooden board is made from one piece of wood without gluing |
| Color: | Natural wood in brown-yellow with natural wood grain |
| Size:L*W*H | 200x40x200cm, the thickness of the plank is 5 cm |
| Weight: | 100-150kg |
| Origin: | Indonesia |
| Production method: | Handcrafted |
| Learn more about teak | over teak |
Solid wood furniture: Improved indoor air, stable, durable, beautiful over time.
Teak tables: Durable, weather-resistant, pest-resistant, strong aroma.
teak wood – A natural wonder with extraordinary properties Why do people all over the world love teak furniture? The answer lies in teak's unique properties:
Robustness and longevity : Teak is one of the most durable woods in the world. Its slow growth rate of at least 50 years gives it exceptional strength and durability. A teak table can be enjoyed for generations.
Natural shine : The high oil and resin content of teak gives it a lasting brilliance. Over time, the wood develops an even more beautiful patina that underlines the character and elegance of the furniture.
Resistance to deformation : Thanks to the high oil and resin content, teak remains stable even under various conditions. Whether indoors or outdoors, your table will retain its shape and beauty.
Unique texture and aroma : The older the teak, the oilier and more robust it becomes. These natural properties give the wood its characteristic texture, a pleasant aroma and high resistance to environmental influences